Happy customers built our business
The majority of our new organ sales are the result of referrals from our happy customers
All Organs' philosophy
To exceed the needs and expectations of every client
Our philosophy
The majority of All Organs' new clients and organ sales have been the result of referrals from our happy customers.  This is because of our philosophy to exceed the needs and expectations of every client. The combination of the world's most famous and most chosen digital organs combined with over 40 years experience as organists and over 30 years in the music industry ensures our customers receive the best advice and service.
Over 40 years as organists
Over 30 years in organ sales
All Organs' history
Our story from the 1970's to today
Once upon a time ...
1970's
Way back in the mid-1970s, there was a young lad in the city of Brisbane, who was taken to hear Robert Boughen and Geoffrey Cox play the Willis pipe organ (pictured below) in the City Hall. Five manuals, seventy-six stops. The music so inspired this young lad, Jim Clinch, that it began his life-long passion for organs and organ music.
Attempts were made to attain an apprenticeship to a pipe organ builder but to no avail. Meanwhile Jim played organ for a local parish and started a career in sales outside of music. In the late 1970s he played an Allen for the first time and noted how pipe-like it was.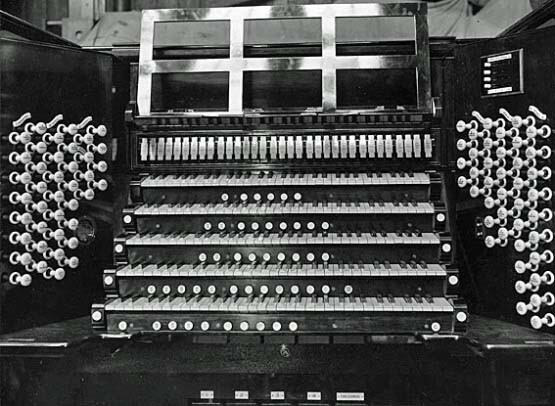 The formative years
1980's
An opportunity arose in 1984 to work in retail stores selling Japanese home organs, pianos and digital pianos.
During this time he also discovered his gift for teaching and taught groups of adults to play (home) organ. Jim also developed a course in operating home organs which rapidly became popular. He gave private tuition helping many adults fulfill their dream of learning to play the organ.
'Twas the night before Christmas ...
1990's
In 1994 Jim and Carmen were appointed as representatives for Allen Organs in Queensland. Their first Allen sale was a three manual theatre organ that was installed in a Gold Coast Penthouse. The order was placed on Christmas Eve 1994!
Soon after, Allen Organ Company USA appointed them as their sole dealer for NSW.
An award-winning time
2010's
Jim (All Organs Australia) has committed to serving the needs of organists and organ music. Having had experience with various organ makers Jim recognised the true value in Allen organs.
Commitment to excellence in sound technology and construction techniques ensures reliable and superior performance today, tomorrow and for decades to come.
Jim and Allen Organ Company focussed on the loyalty they pledged to their customers and Jim's commitment to his customers. Through this commitment All Organs' growth has been unsurpassed. In 2013 Jim received an award from Allen Organ Co for his work.
Since then ...
Since then ...
Since then All Organs has expanded its product offering by including Content classical and virtual organs from Holland as well as Ringway home entertainment organs from China.