Experience true value with Allen Organs
With the highest resale value and a reputation for the best after-sale service
Experience the true value in an Allen organ
Sole Allen Organs authorized dealer in ACT, NSW and QLD
Allen Organs' corporate motto Quality Comes First has led them to produce instruments of unmatched quality in both thrilling pipe organ sound and methods of construction. That mantra hasn't changed since they commenced production in 1939. Allen Organs also builds consoles, control systems and digital stops for existing pipe organs.
So you can have the best of both worlds with Allen Organs.
Competitive comparison by Allen Organs Company
The Allen Organs custom organ program
Special projects for one-off creations to suit individual requirements
Their custom organ program makes available the resources of the world's largest and most respected digital organ builder for special one-off creations to suit individual requirements.
Allen Organ Company has the resources and manufacturing facilities to cater for many special requests. At present, factory orders for Allen Custom organs are at record levels.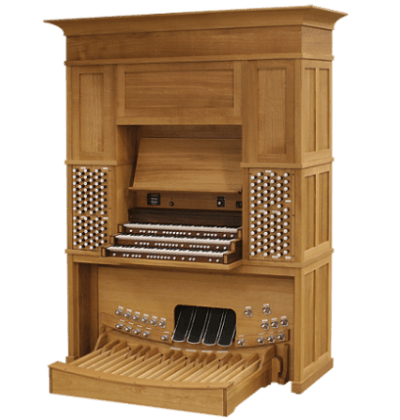 Spånga Church, Stockholm, Sweden
European Oak Console
Pictured above is a custom Allen organ with a baroque-style organ console for a European customer. Not only is this console a one-of-a-kind design, but it is also made of a special European Oak wood. The wood for this special console was delivered to the Allen factory.
The hallmarks of Allen Organs
With more than 80,000 installations worldwide, Allen Organs carries the banner of innovation into the 21st century with their hallmarks being:
Superior quality
Superior craftsmanship
Superior technology
Sounds like a dream come true?
We invite you to browse the Allen Organ website or contact us to discuss your specific requirements and arrange a demonstration of one of the world's most famous digital organs.