Digital classical and Hauptwerk Content organs
Decades of innovation, quality and excellent craftsmanship in every organ
Bringing inspiration to musicians and listeners alike
Content Organs is a leading digital organ builder based in The Netherlands. Content Organs has a reputation for building digital classical organs and Hauptwerk organs for churches and private customers, each characterised by its own unique sound experience.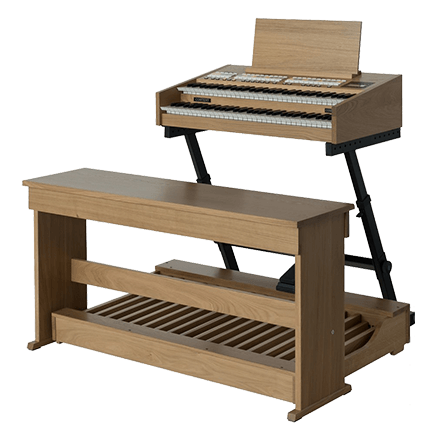 The Compact 224 from Content Organs
Content Organs offers a wide choice in styles and features
Organs with an excellent price and quality relation
Content Organs offer churches, institutions, conservatories, music schools and end users a wide choice in styles and features.
Content Organs are always looking for unique solutions, searching innovative and creative responses to the needs of theircustomers. A careful manufacturing process, multiple check and testing procedures have created a solid base for the reliability of their instruments.
Content Organs' passion for organ building is reflected in their beautiful cabinetry, based on traditional knowledge and unparalleled workmanship.
Content Organs' Corporate video
Content Organs' rich heritage
Established 1980 by Bert Foppen
Holland's history in organ building dates back to the fifteenth century. Six Centuries later there is still a thriving organ culture both in the development and manufacturing of organs as well as performances and culturally.
From the very start Content Organs' focus was on product development, the use of quality material and excellent workmanship. This approach resulted in Content Organs receiving the prestigious 'Diapason d'Or' during a 1987 Trade Fair in Paris, France.
At the end of the 1980s, the tone generation system changed from an analog to a digital sound source. This allowed a major increase in features and consequently an expansion in the selection of models available. The application of this technology and a creative, inventive approach initiated a new series of organs.
At the same time the steady growth in units sold required a new milestone in the history of the company: an all new factory, developed exclusively for the development and production of digital classical organs.
The new and modern plant, meeting up to date requirements was put into operation at the end of 2008 in the newly developed Ermelo industrial area.