All Organs' clients
Our clients include private residences, churches and institutions around Australia
We've had that Allen organ for more than 30 years, it's only cost us a few hundred dollars in maintenance and it's still going strong!
We've got organists traveling from across town wanting to play our new Allen
The sound and the keyboards are a revelation after my previous pipe-less organ
That organ was worth every penny for the joy my husband's had from it
Installations ... and more
More than 350 installations!
All Organs Australia has installed more than 350 new Allen Organs for clients in ACT, NSW and QLD ranging from private residences to churches, funeral chapels, schools and universities – from basic two keyboard models to luxurious four keyboard models.
To date there are more than 450 Allen organ installations across Australia. Some are more than 40 years old and are still faithfully serving their owners.
New Allen organs have been chosen to replace other brands of electronic organs as well as pipe organs. Some of the organs replaced were less than 15 years old.
Our gallery
Every picture tells a story
Gallery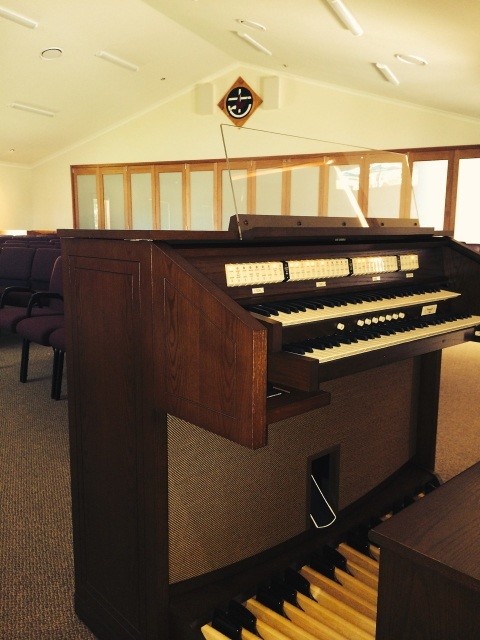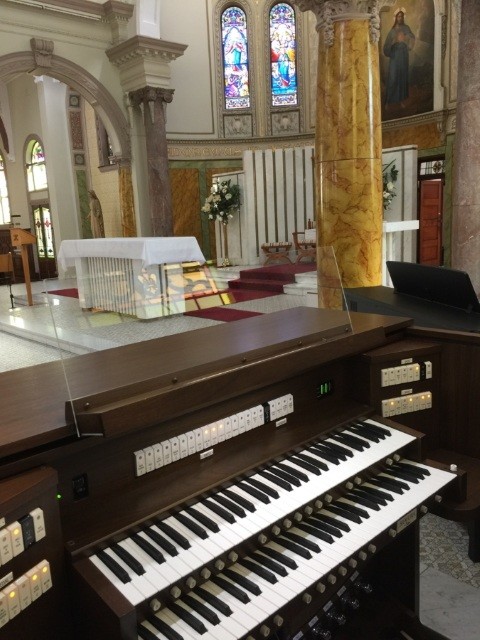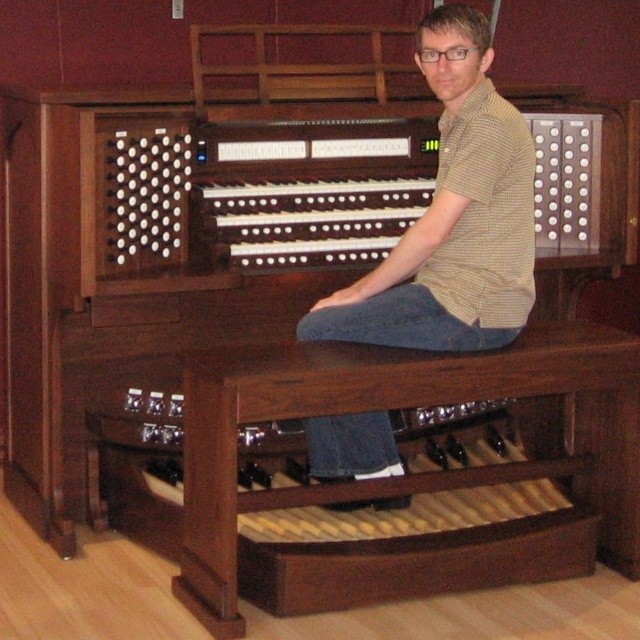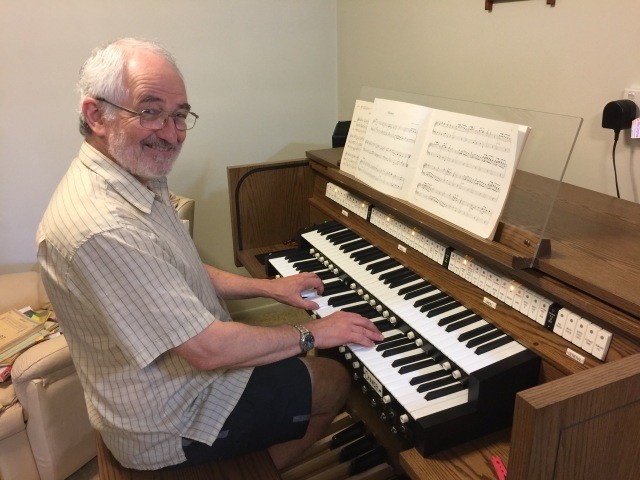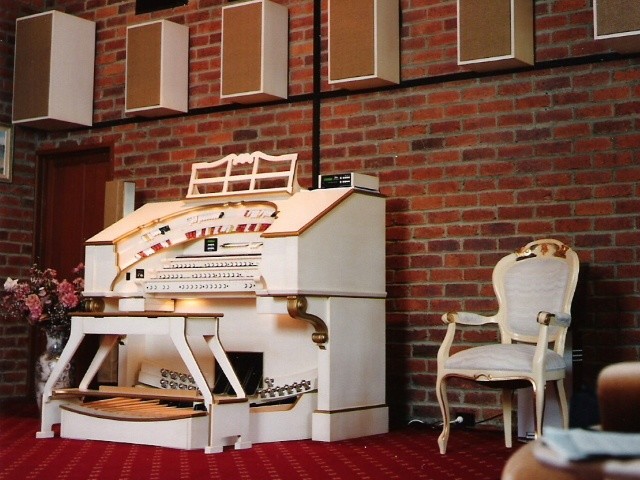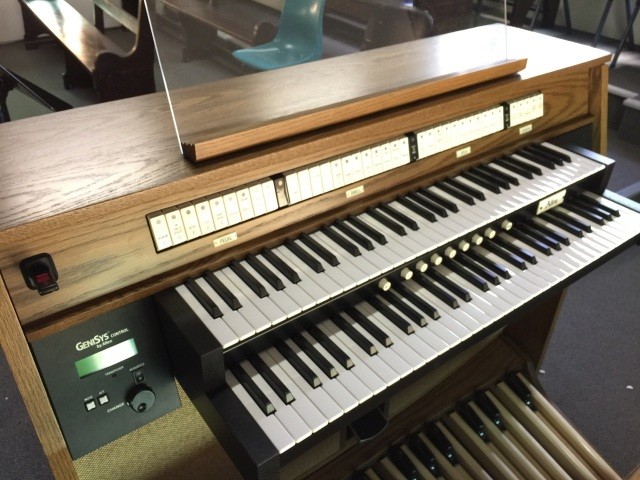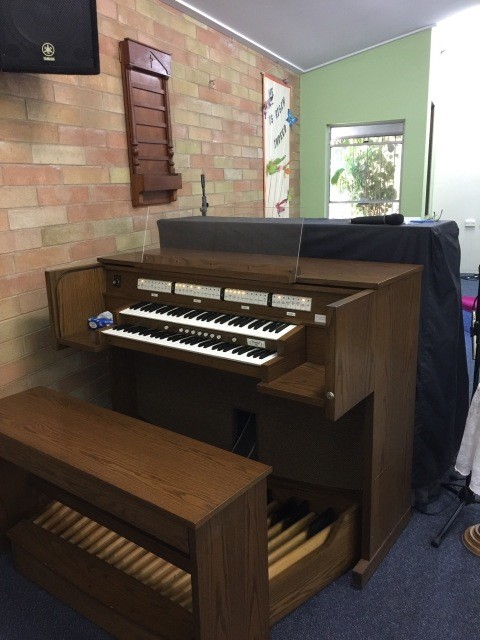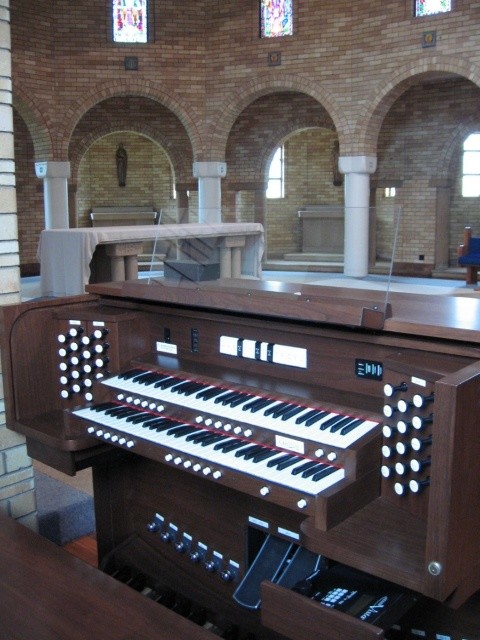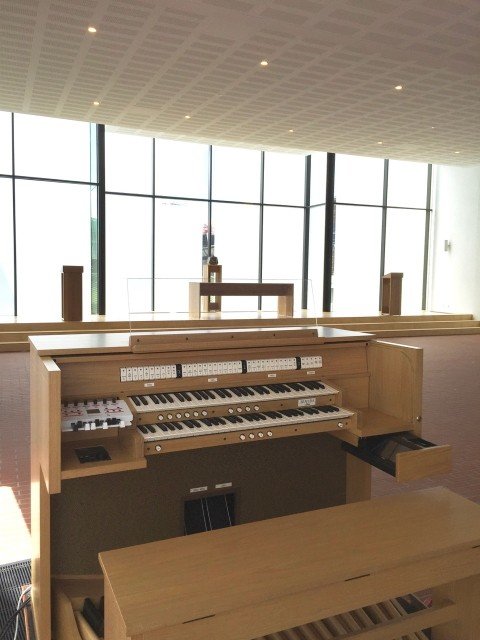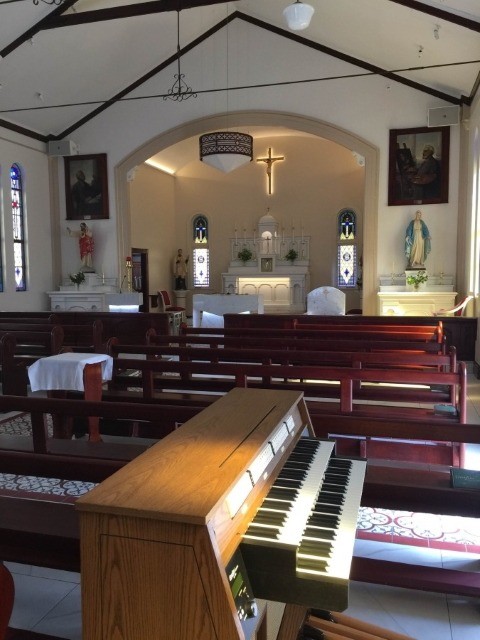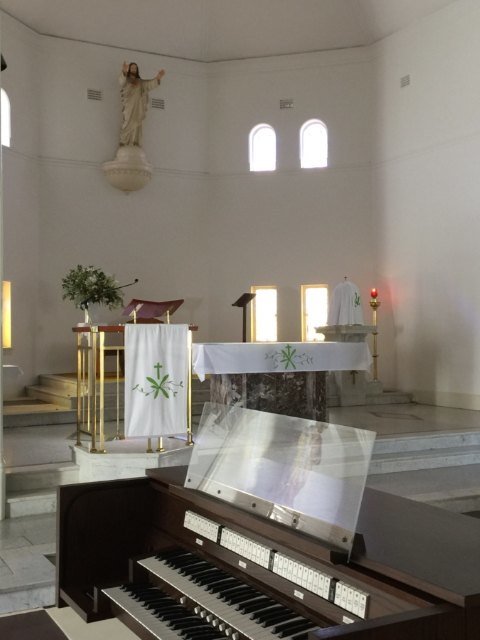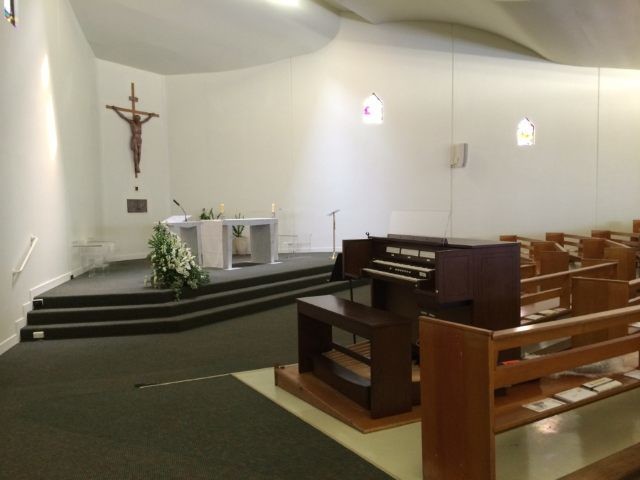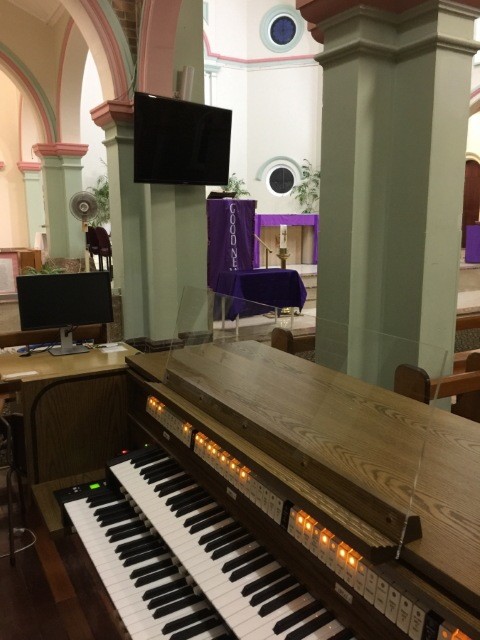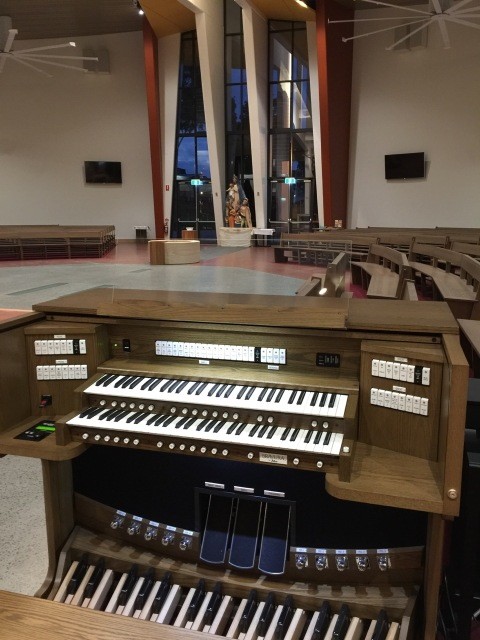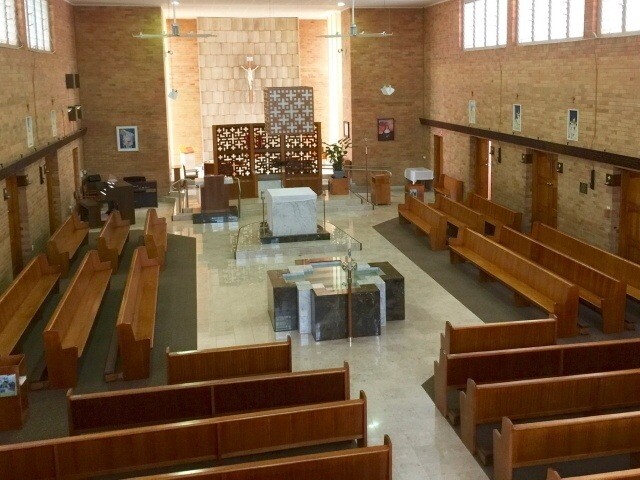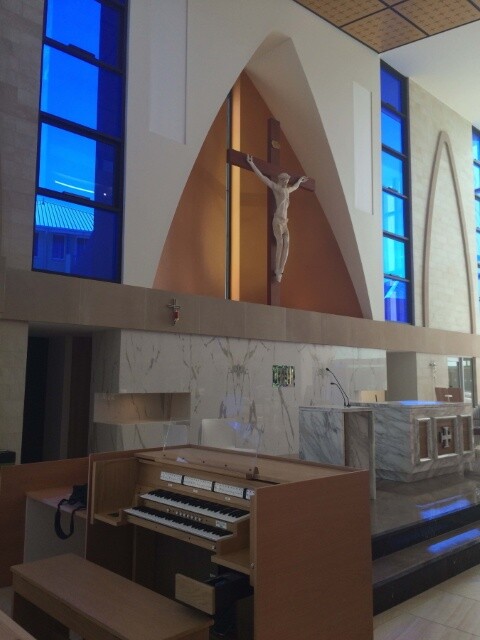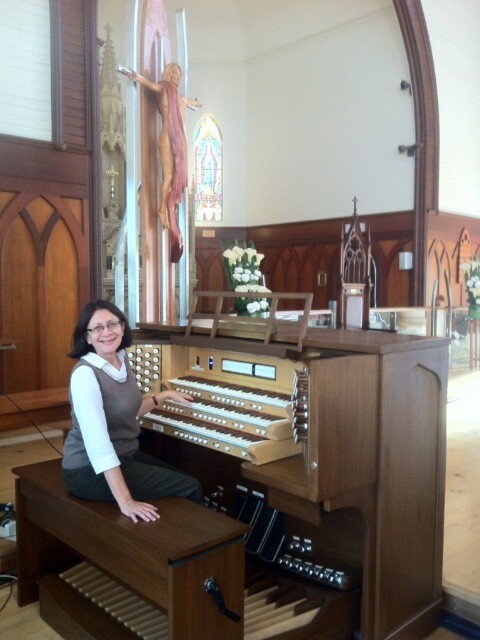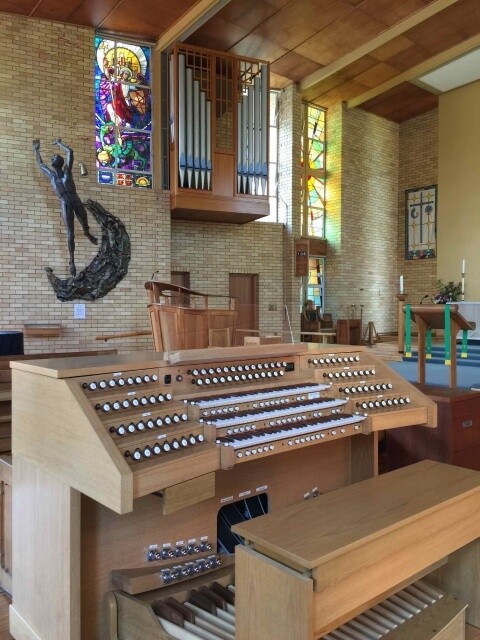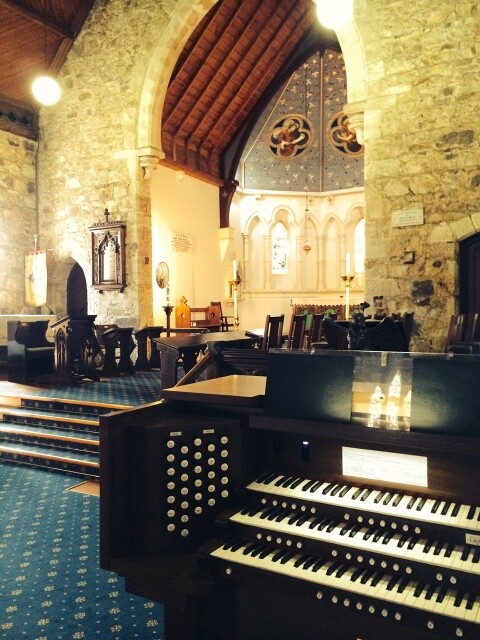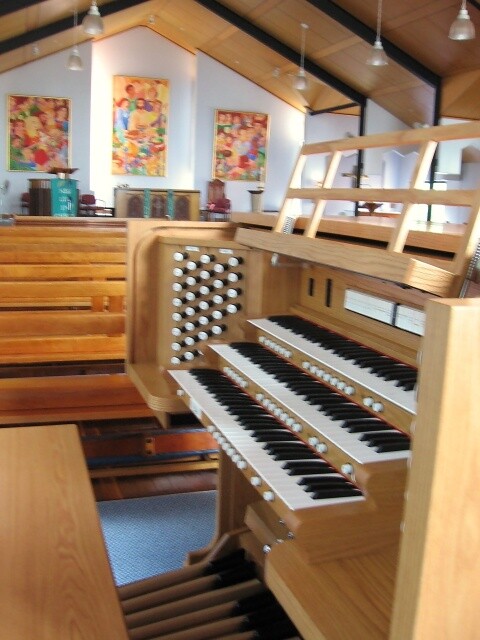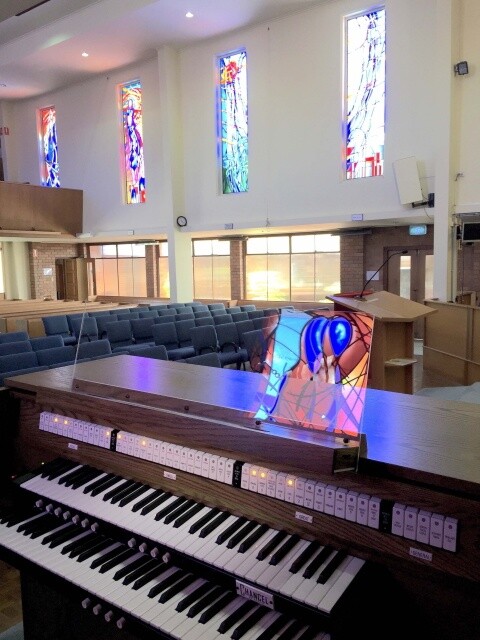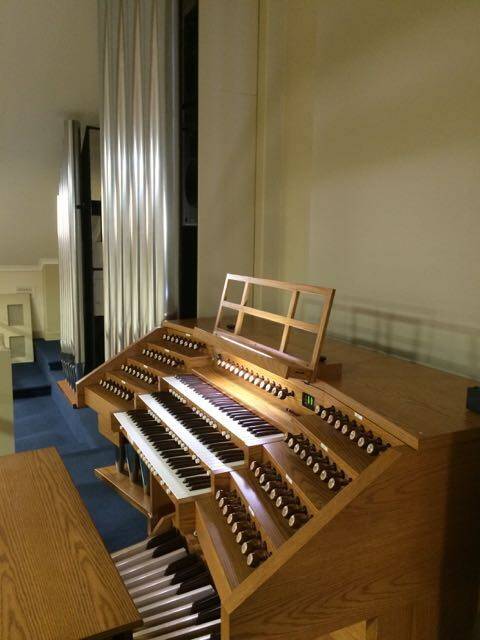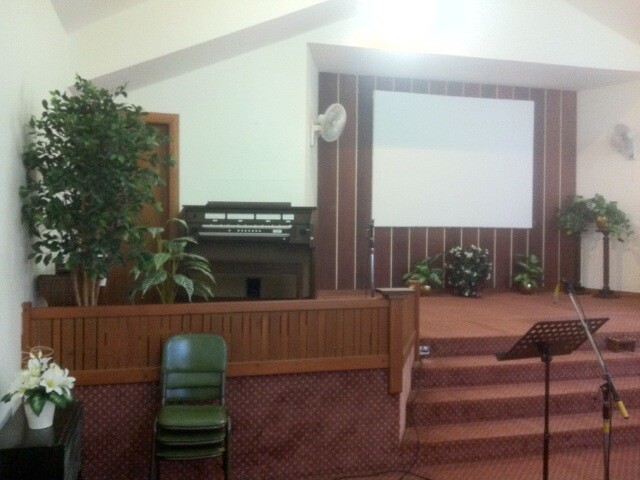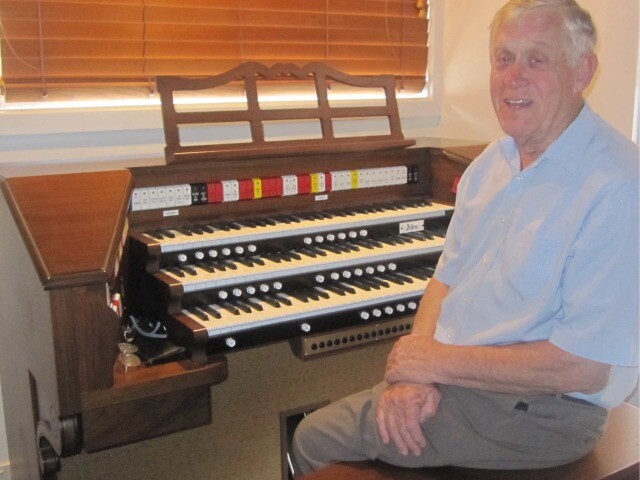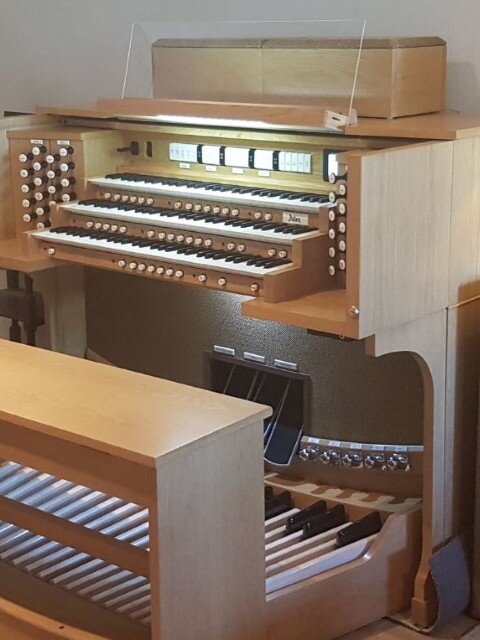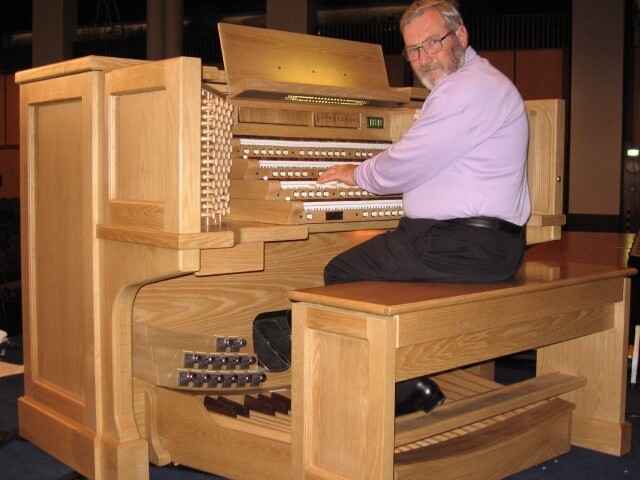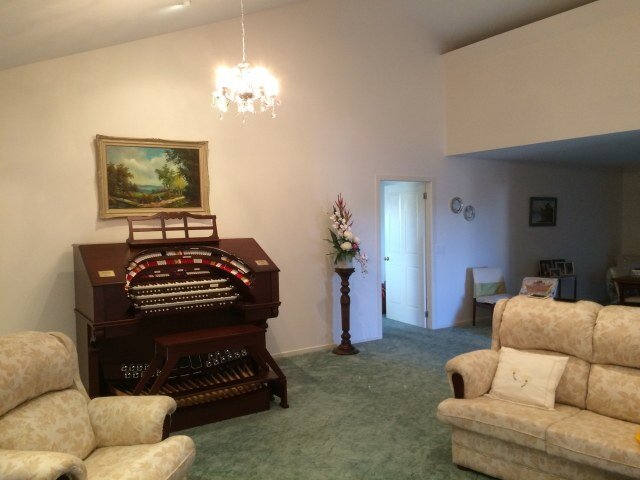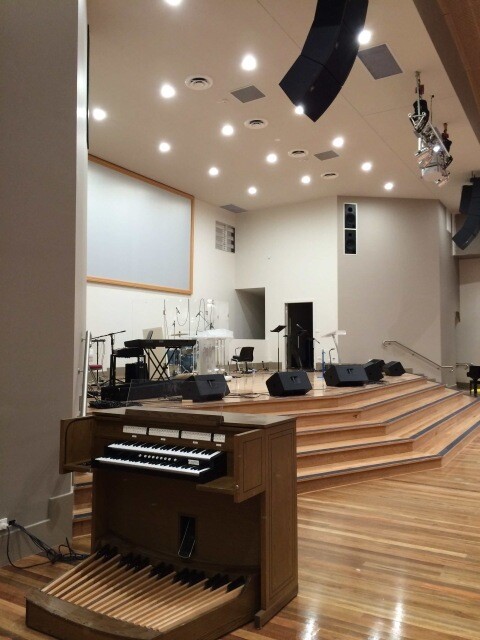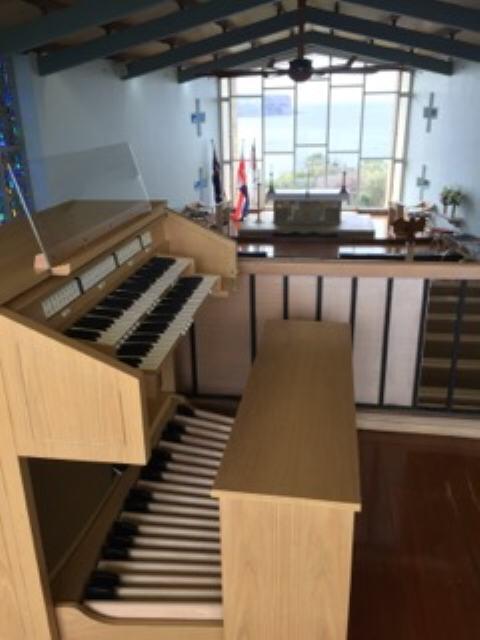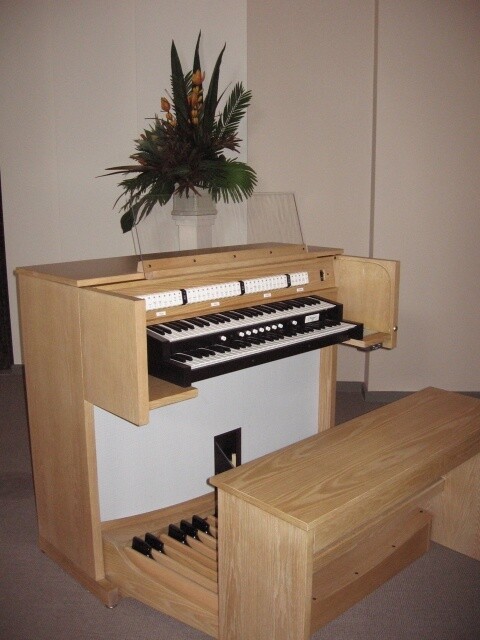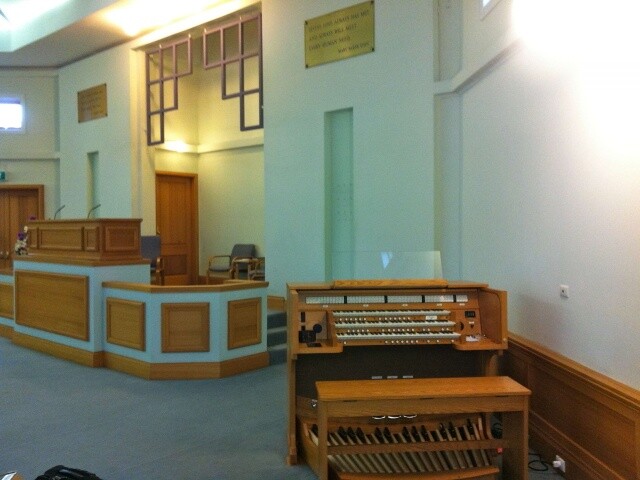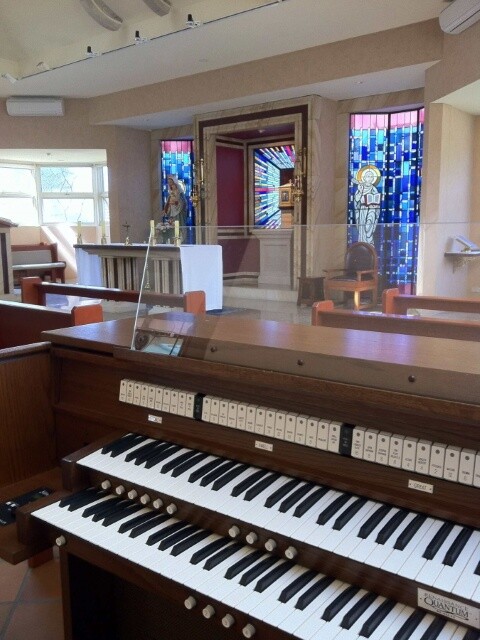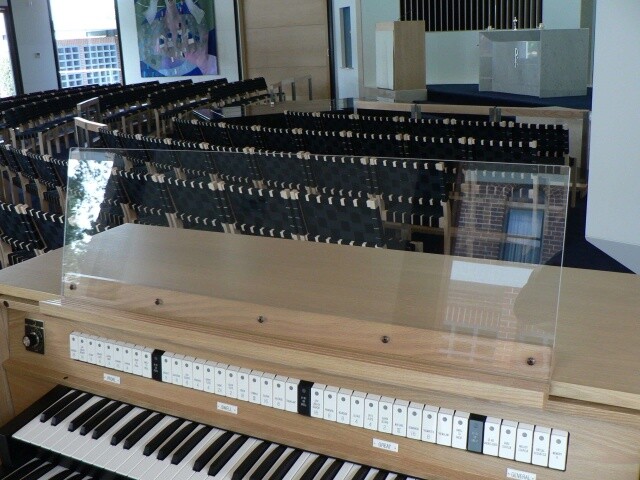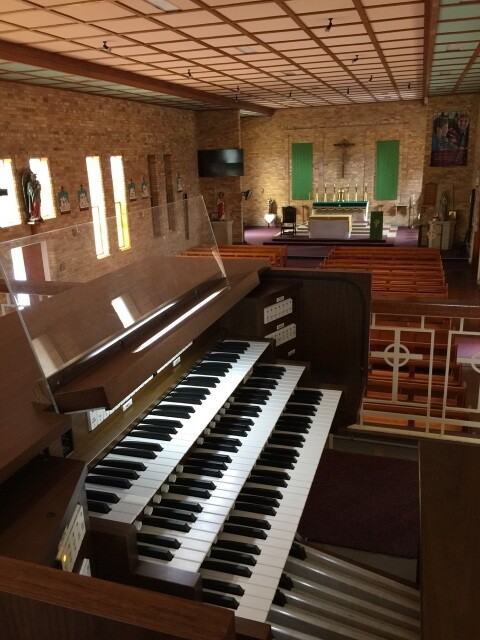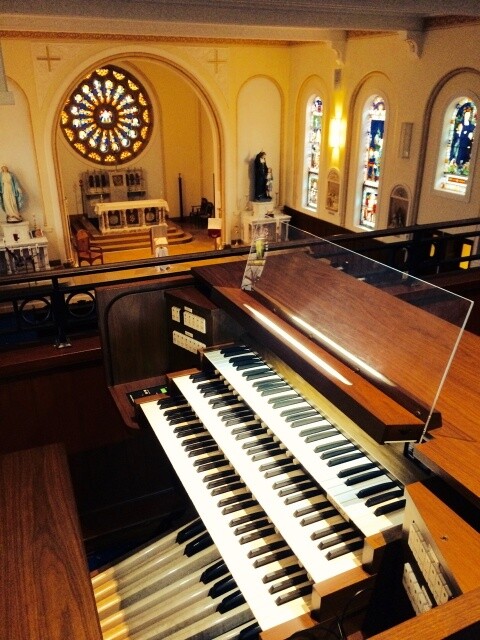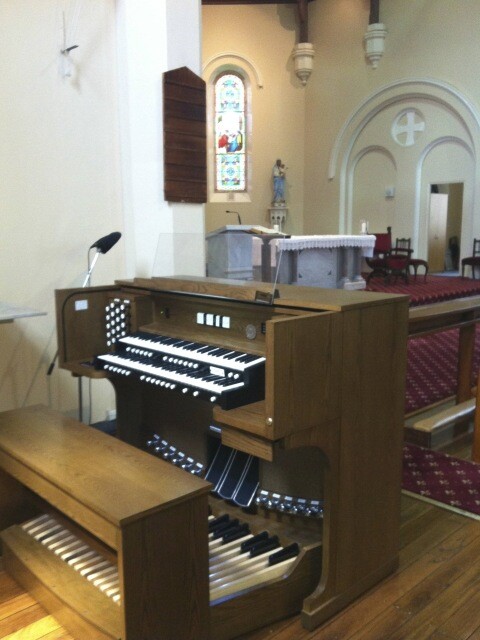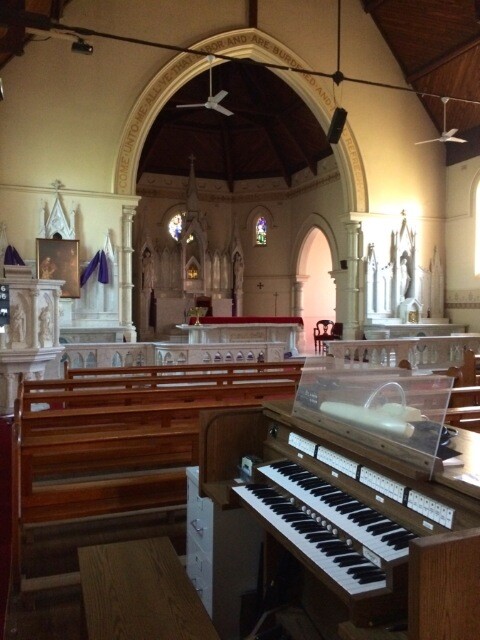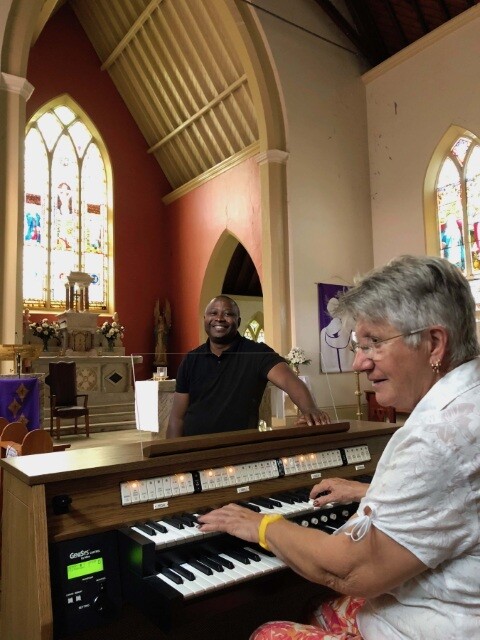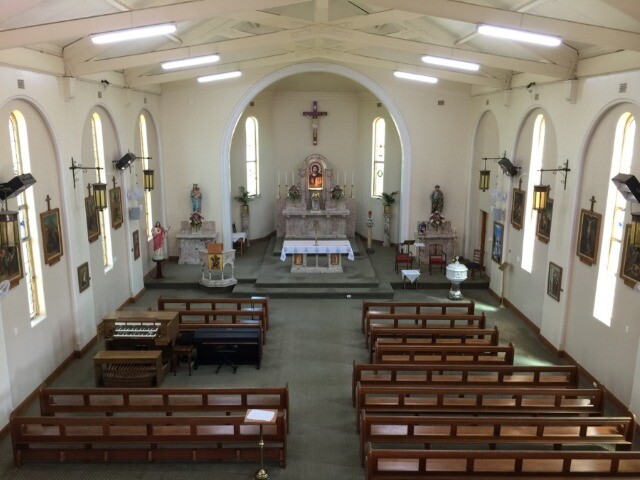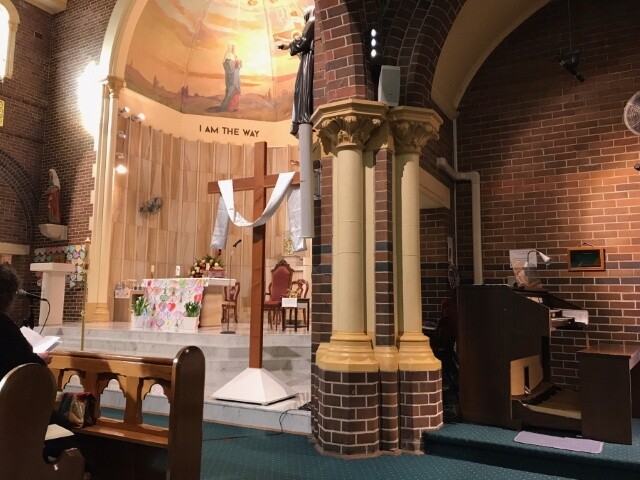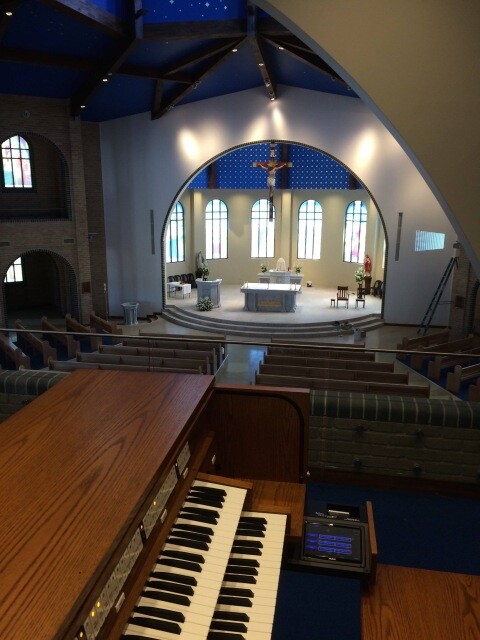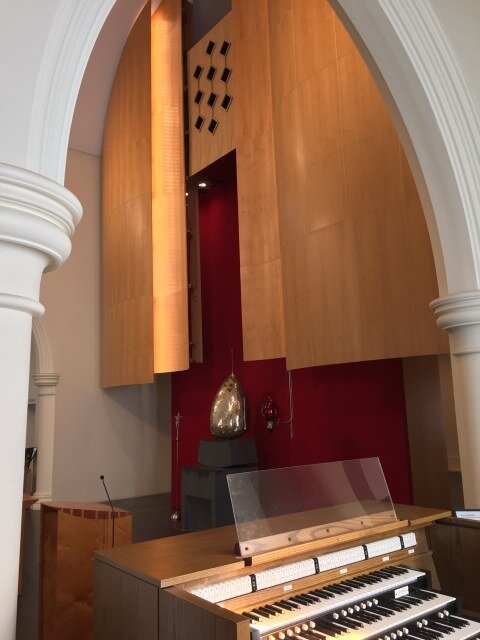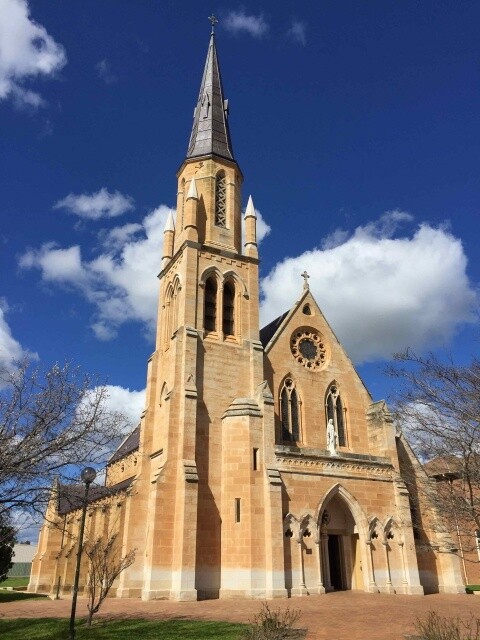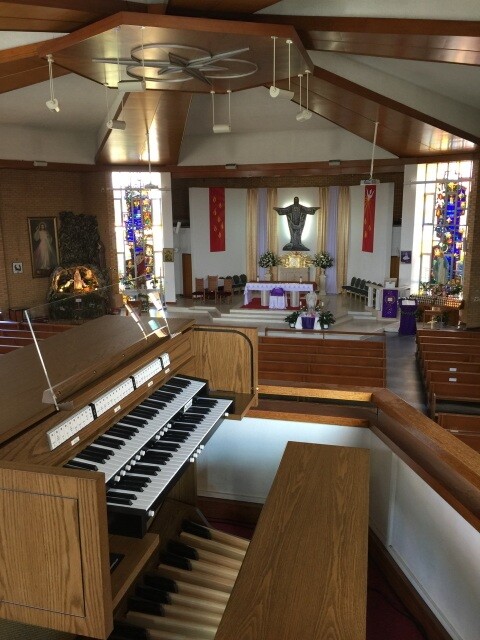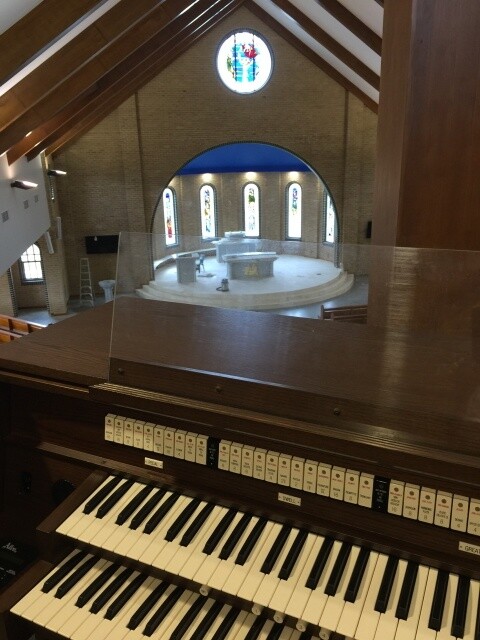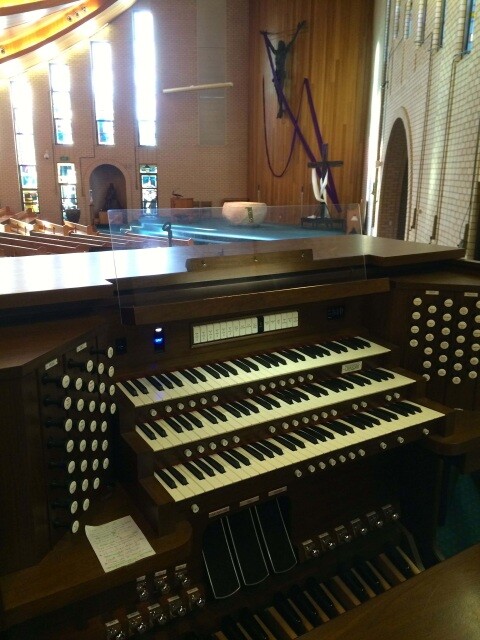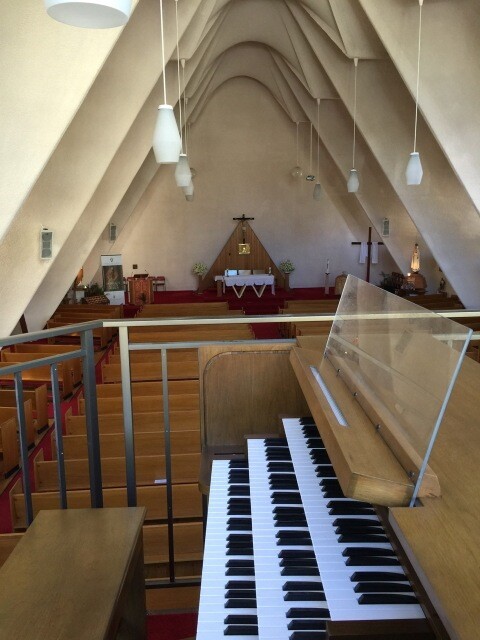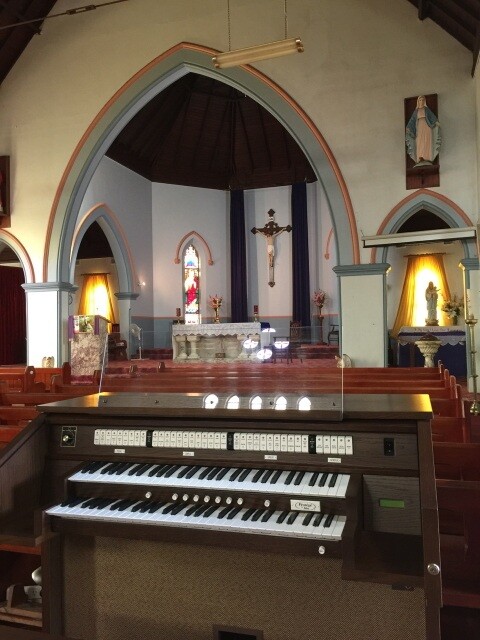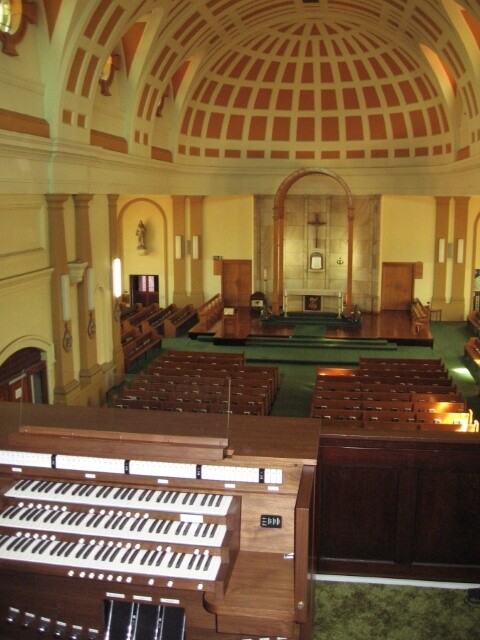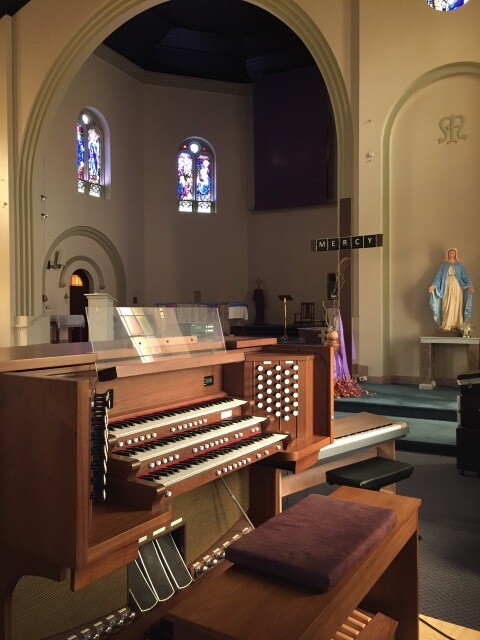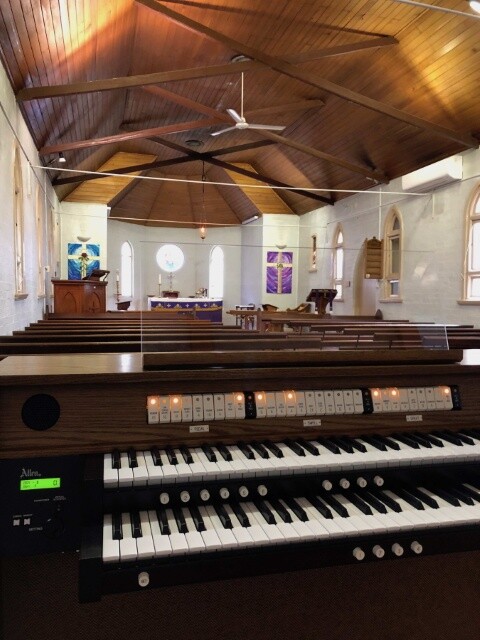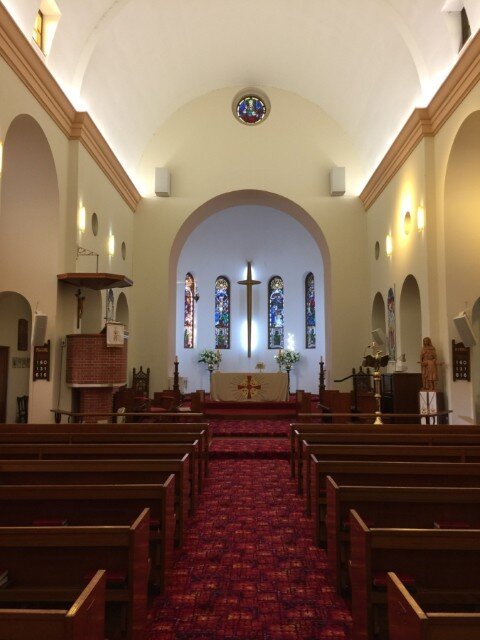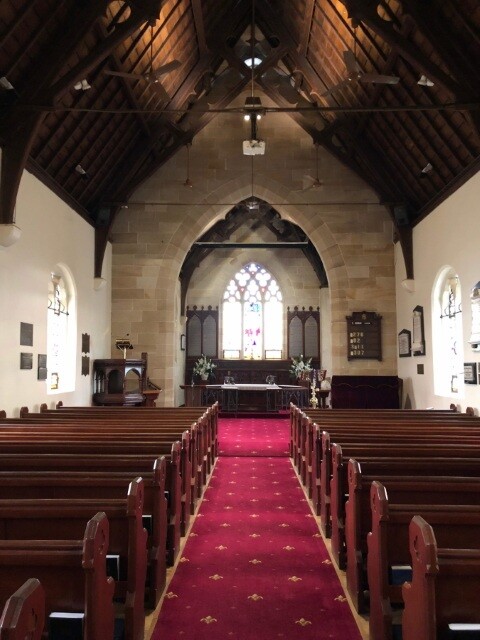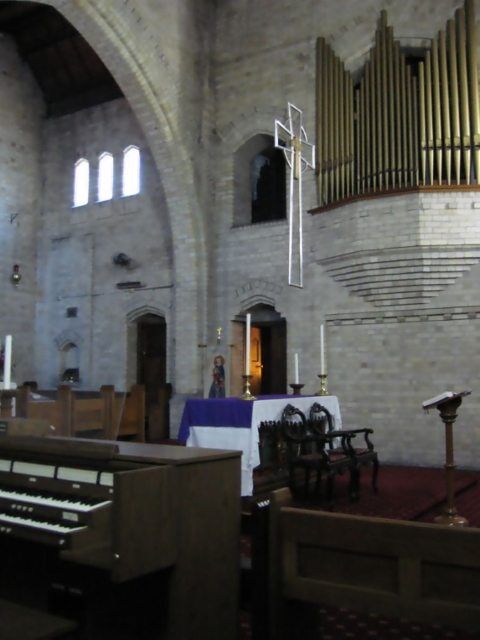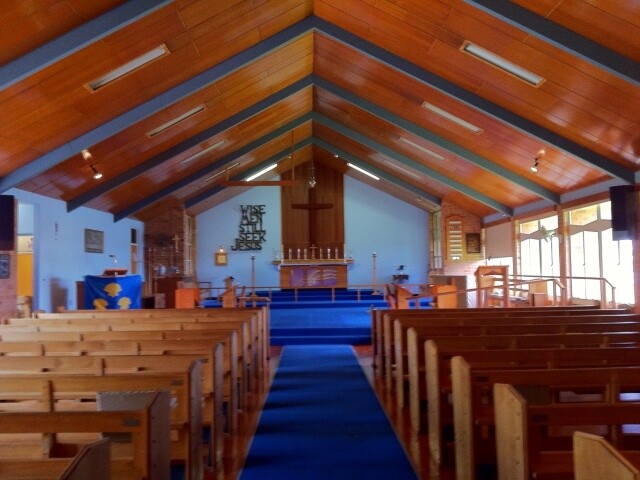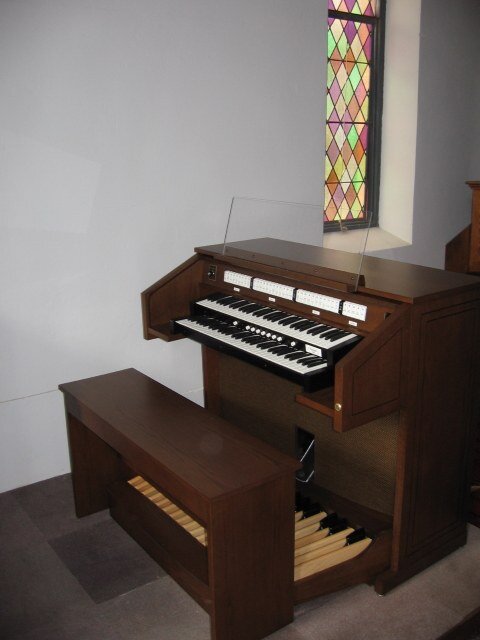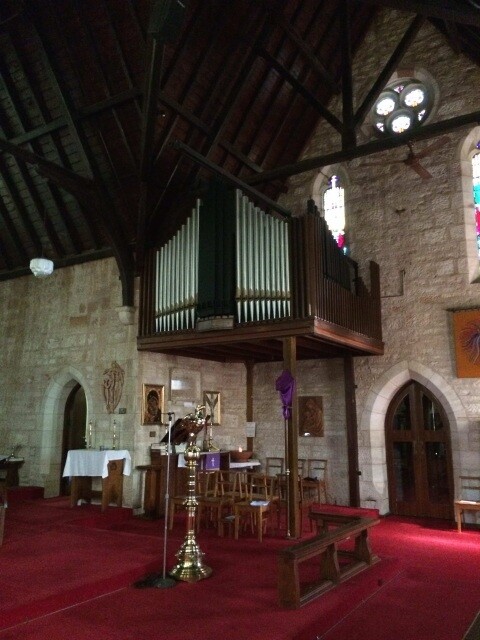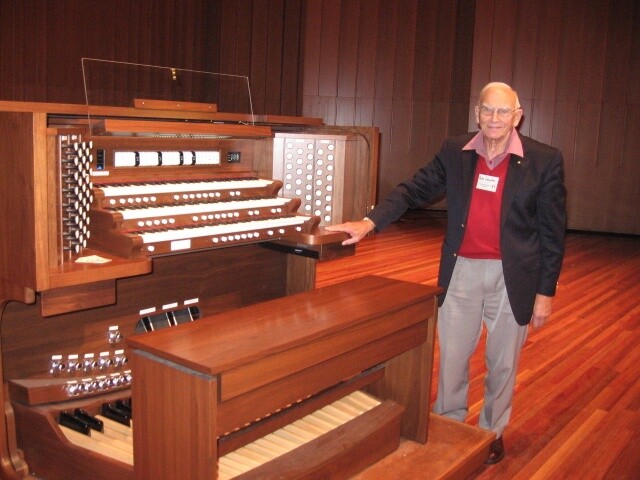 ACT
Australian National University, Canberra
Q-345C PLUS VISTA installed
Catholic Church, Pearce
ADC 1030 installed
Catholic Church, Warramanga
MDS-10 installed
International Festival of Music 2011, Canberra
CF-15 installed
Latter Day Saints, O'Connor
MDS-6 installed
Residence, Canberra
TH-300 installed (Gulbransen replaced)
Residence, Canberra
CF-15 installed
Residence, Kambah
Historique II installed
NSW
Anglican Church, Tweed Heads
AP-5 installed (Baldwin replaced)
Anglican Church, Kingscliff
C-3 installed (Conn replaced)
Anglican Church, New Lambton
C-14C installed (Hammond replaced)
Anglican Church, Kyogle
C-3A installed (Johannus replaced)
Anglican Church, Eastwood
L-322 installed (Johannus replaced)
Anglican Church, West Armidale
Historique installed (Kawai replaced)
Anglican Church, Taree
L-9 installed (Old Allen replaced)
Anglican Church, Beacon Hill
201 installed
Anglican Church, Brighton Le Sands
203 installed
Anglican Church, Canowindra
125 installed
Anglican Church, Coffs Harbour
201 installed
Anglican Church, Denistone
225 installed
Anglican Church, Forestville
AP-4 installed
Anglican Church, Silvania Hts
MDS-11 installed
Anglican Church, Springwood
123 installed
Anglican Church, St Ives
ADC-6300 installed
Anglican Church, Tenterfield
301-3 installed
Anglican Church, Dubbo
G-100 installed (Allen ADC-4000 replaced)
Anglican Church, Mayfield
C-14C installed (Pipe Organ replaced)
Anglican Church, Mosman
Allen G-340 installed (Allen 805 replaced)
Anglican Church, Gulgong
C-3A installed (Reed organ replaced)
Anglican Church, Turvey Park
L-4AUS installed (Wurlitzer replaced)
Anglican Church, Ryde
Repertoire IIa installed
Anglican Church, Berry
L-5 installed
Anglican Retirement Village, Castle Hill
L-9 installed (Wurlitzer replaced)
Baptist Church, Glenwood
L-5 installed (Thomas replaced)
Bible Presbyterian, Gladesville
C-3 installed
Catholic Cathedral, Waitara
L-321 PLUS VISTA installed (Ahlborn-Galanti replaced)
Catholic Cathedral, Broken Hill
AP-17E PLUS MIDI DIV II installed (Hammond replaced)
Catholic Cathedral, Redfern
MADC-730 installed
Catholic Cathedral, Newcastle
R-350 PLUS MIDI DIV II installed (Rodgers replaced)
Catholic Cemetery Chapel, Rookwood
CF-2A installed
Catholic Church, Merrylands
CF-9 installed (Ahlborn - Hammond replaced)
Catholic Church, Davidson
L-10 installed (Ahlborn-Galanti replaced)
Catholic Church, Lavender Bay
CF-10 installed (Ahlborn-Galanti replaced)
Catholic Church, Mudgee
CF-9 installed (Ahlborn-Galanti replaced)
Catholic Church, Tamworth
L-5 installed (Ahlborn-Galanti replaced)
Catholic Church, Castle Hill
CF-10 installed (Allen ADC-530 replaced)
Catholic Church, Asquith
C-6 installed (Baldwin replaced)
Catholic Church, Ingleburn
L-10 installed (Baldwin replaced)
Catholic Church, Brighton leSands
L-121 PLUS VISTA installed (Conn replaced)
Catholic Church, Dover Hts
L-4 installed (Conn replaced)
Catholic Church, Griffith
C-6 PLUS VISTA installed (Conn replaced)
Catholic Church, Leeton
C-14C installed (Conn replaced)
Catholic Church, Naremburn
QL-120 installed (Conn replaced)
Catholic Church, Normanhurst
L-9 PLUS VISTA installed (Conn replaced)
Catholic Church, Parkes
L-5 installed (Conn replaced)
Catholic Church, Strathfield
L-5 installed (Conn replaced)
Catholic Church, Kyogle
C-3 installed (Farfisa replaced)
Catholic Church, Chatswood
QL-310 PLUS VISTA PLUS EAC installed (Hammond replaced)
Catholic Church, Eugowra
L-4 installed (Hammond replaced)
Catholic Church, Lakemba
L-10 installed (Hammond replaced)
Catholic Church, Maclean
C-6 installed (Hammond replaced)
Catholic Church, Millers Point
L-9 installed (Hammond replaced)
Catholic Church, Tenterfield
QL-120 PLUS VISTA installed (Hammond replaced)
Catholic Church, Wellington
C-6 installed (Hammond replaced)
Catholic Church, Forbes
L-10 installed (Johannus replaced)
Catholic Church, Plumpton
CF-8 installed (Johannus replaced)
Catholic Church, Oatley
L-5 installed (Kawai replaced)
Catholic Church, Rydalmere
C-6 PLUS VISTA installed (Mansonic replaced)
Catholic Church, Baulkham Hills
L-9 PLUS VISTA PLUS EAC installed (Old Allen replaced)
Catholic Church, Sans Souci
L-9 PLUS VISTA installed (Old Allen replaced)
Catholic Church, Kingscliff
L-4 installed (Orla replaced)
Catholic Church, Campsie
AP-3 PLUS SM REC installed
Catholic Church, Clifton Gardens
Allen GX-215 installed (Allen MDS replaced)
Catholic Church, Clovelly
MDS-11 installed
Catholic Church, Gladesville
204 installed
Catholic Church, Hurstville
120 installed
Catholic Church, Lindfield
632 installed
Catholic Church, Naranderra
L-4 installed
Catholic Church, Neutral Bay
QL-120 (ENG) PLUS VISTA installed
Catholic Church, Pennant Hills
203 installed
Catholic Church, Riverwood
MDC-720 installed
Catholic Church, Stanhope Gardens
C-6 installed
Catholic Church, Dubbo
L-331DK PLUS VISTA installed (Rodgers replaced)
Catholic Church, Woolwich
CF-15DK installed (Rodgers replaced)
Catholic Church, Port Macquarie
L-322eDK PLUS VISTA NAVIGATOR installed (Roland Piano replaced)
Catholic Church, Concord West
C-6 PLUS VISTA installed (Technics replaced)
Catholic Church, Dee Why
L-321E PLUS VISTA installed (Technics replaced)
Catholic Church, Denistone
C-12C PLUS MIDI DIV II installed (Technics replaced)
Catholic Church, Parramatta
CF-30 installed (Viscount replaced)
Catholic Church, Coraki
L-4 AUS installed (Wurlitzer replaced)
Catholic Church, Ashmont
CF-8 installed (Yamaha replaced)
Catholic Church, Bangalow
C-14C PLUS ENSEMBLE installed (Yamaha replaced)
Catholic Church, Blayney
L-4 installed (Yamaha replaced)
Catholic Church, Casino
Q-300 PLUS VISTA installed (Yamaha replaced)
Catholic Church, Gundagai
L-4 installed (Yamaha replaced)
Catholic Church, Matraville
L-4 installed (Yamaha replaced)
Catholic Church, Yeoval
C-3 installed (Yamaha replaced)
Catholic Church, Tumut
Repertoire II installed (Yamaha replaced)
Catholic Church, Rouse Hill
L-10 installed
Catholic Church, Ballina
Repertoire IIa installed
Catholic Church, Hay
L-5 installed
Catholic Church, Willoughby
CF-8 installed
Catholic Church, North Ryde
Allen G-230 installed (Rodgers replaced)
Catholic Church (Korean), Silverwater
AP-17E installed (Technics replaced)
Catholic Church (Little Sisters of the Poor), Randwick
L-4 installed
Catholic Church (Maronite), Dulwich Hill
MADC-530 installed
Catholic Church (St Patrick's), Summer Hill
L-9 PLUS VISTA installed (Kawai replaced)
Catholic Church (Warrane College), Kensington
CF-2A installed (Hammond replaced)
Catholic Church (World Youth Day 2008), Sydney
Q-300 PLUS VISTA installed
Catholic Church Mt Carmel, Waterloo
Content Cantate 246 installed (Technics replaced)
Catholic Church St Anne's, Bondi
Content Celeste 340 installed (Clavinova replaced)
Catholic Church St Luke's, Revesby
Allen G-100 with GeniSys Voices installed (old Allen replaced)
Catholic College, Ryde
L-322 installed (Hammond replaced)
Catholic College, Castle Hill
L-322 installed (Viscount replaced)
Catholic Crematorium, Rookwood
C-3 installed
Catholic Maronite, Punchbowl
ADC-2130 installed
Catholic Seminary, Homebush
QL-120 (ENG) PLUS VISTA installed (Rodgers replaced)
Catholic St Joseph's College, Hunter's Hill
MDS-60 PLUS installed
Christian Science, Hornsby
MDC-57730 installed
Christian Science, Penrith
MDC-60575 installed
Christian Science, Chatswood
L-321 installed (Rodgers replaced)
Christian Science, Ryde
L-10 installed (Viscount replaced)
Cranbrook School, Bellevue Hill
Q-300 installed (Baldwin replaced)
Crematorium Chapel, Macquarie Park
C-3A installed
HMAS WATSON, Watsons Bay
L-6 installed (Kawai replaced)
Holy Name Catholic Church, Wahroonga
Allen GX-235 installed
Hospital Chapel, Monavale
MDC-8559 installed
Iglesia Ni Cristo, Minchinbury
L-122 PLUS VISTA NAVIGATOR installed (Technics replaced)
Lutheran Church, Gilgandra
123 installed
Lutheran Church, Henty
ADC-3000 installed
Meriden School, Strathfield
MADC-720 installed (Rodgers replaced)
Opera Australia, Sydney
Historique II installed (Ahlborn replaced)
Presbyterian Church (Korean), Granville
CF-8 installed (Ahlborn-Galanti replaced)
Seventh Day Adventist Church, Wollongong
L-5 installed (Conn replaced)
Seventh Day Adventist Church, Cooranbong
201 installed
Seventh Day Adventist Church, Galston
201 installed
Seventh Day Adventist Church, Morisset
201 installed
Seventh Day Adventist Church, Parramatta
423 installed
Seventh Day Adventist Church, Waitara
ADC-530 installed
Sister Disciples of the Divine Master, Strathfield
Content Clavis 224R installed
Soldiers & Miners Memorial Church, Mt Kembla
L-10 installed
St Patrick's Catholic Church, Bondi
Content Celeste 236R Aus installed
The Armidale School, Armidale
MADC-730 installed
The Armidale School, Armidale
Q-350 installed
U.N.E., Armidale
301 installed
Uniting Church, Gordon
CF-17+GenSys Voices installed (Ahlborn replaced)
Uniting Church, Oatley
L-11 installed (Allen 202 replaced)
Uniting Church, Gosford
C-6 installed (Conn replaced)
Uniting Church, Wentworthville
L-5 installed (Conn replaced)
Uniting Church, Berry
L-5 installed (Eminent replaced)
Uniting Church, Glenbrook
L-10 installed (Hammond replaced)
Uniting Church, Molong
Historique II installed (Hammond replaced)
Uniting Church, Carlingford
123 installed
Uniting Church, Drummoyne
123 installed
Uniting Church, Eastwood
123 installed
Uniting Church, Orange
305 installed
Uniting Church, Orange
MDS-15 installed
Uniting Church, Pymble
202 installed
Uniting Church, South Turramurra
ADC-2160 installed
Uniting Church, St Ives
223 installed
Uniting Church, Terrigal
ADC-730 installed
Uniting Church, North Ryde
CF-15 installed (Rodgers replaced)
Uniting Church, Forster
L-4AUS installed (Wurlitzer replaced)
Uniting Church, Banora Point
AP-4 installed (Yamaha replaced)
Uniting Church (Centenary), Parramatta
C-6 installed (Schober replaced)
Uniting Church Turramurra, Turramurra
Content Celeste 236R installed (Hammond replaced)
Wesley Uniting, Wagga-Wagga
301 installed (Pipe Organ replaced)
Residence, Newcastle
C-3A installed (Ahlborn-Galanti replaced)
Residence, West Pennnant Hills
L-321I PLUS VISTA installed (Ahlborn-Galanti replaced)
Residence, West Pennnant Hills
T-321-Q PLUS VISTA installed (Allen R-311 replaced)
Residence, Eastwood
LL-324QSP PLUS VISTA installed (Allen T-321Q replaced)
Residence, Engadine
L-4 installed (Baldwin replaced)
Residence, Killara
L-9 installed (Compton replaced)
Residence, Mittagong
Repertoire installed (Elka replaced)
Residence, Nowra
G-210 installed (Eminent replaced)
Residence, Castle Hill
C-3 installed (Hammond replaced)
Residence, Glenhaven
L-121 installed (Hammond replaced)
Residence, Putney
LL-324Q installed (Allen Q-311T replaced)
Residence, Pymble
Historique installed (Kawai replaced)
Residence, Bonells Bay
Historique installed (n/a replaced)
Residence, Lapstone
Historique installed (n/a replaced)
Residence, Sefton
L-5 installed (N/A replaced)
Residence, Banora Point
C-12C installed
Residence, Bathurst
C-14C installed
Residence, Bexley
C-3A installed
Residence, Chatswood
C-14C installed
Residence, French's Forest
C-6 installed
Residence, Glenwood
L-321I PLUS VISTA installed
Residence, Linden
L-10 installed
Residence, Mangrove Mtn
MDS-TH CUSTOM installed
Residence, Moss Vale
L-9 installed
Residence, Sans Souci
ADC-6500 installed
Residence, Terranora
GW-319EX PLUS MIDI DIV II installed
Residence, Wauchope
C-6 installed
Residence, West Pennnant Hills
Q-311 PLUS VISTA installed
Residence, Wollstonecraft
L-9 installed
Residence, Ryde
L-5 installed (Pipe replaced)
Residence, Murwillumbah
Historique IIIa installed (Pipe replaced)
Residence, Tura Beach
L-9 installed (Pipe Organ replaced)
Residence, Mittagong
CF-2A installed (Pipe organ replaced)
Residence, Goulburn
LL-324QSP PLUS VISTA installed (Rodgers replaced)
Residence, Gundaroo
H-IV-87-Q installed (Rodgers replaced)
Residence, Warners Bay
TH-300 installed (Rodgers replaced)
Residence, Wentworth Falls
TH-300 installed (Rodgers 360 replaced)
Residence, Rosemeadow
MDS-THIII installed (Technics replaced)
Residence, Tenterfield
C-2A installed (Technics replaced)
Residence, Connells Point
CF-2A installed (Thomas replaced)
Residence, Mittagong
ADC-4600 installed (Thomas replaced)
Residence, Thornleigh
L-5 installed (Thomas replaced)
Residence, Newcastle
AP-30 PLUS MIDI DIV II installed (Viscount replaced)
Residence, Port Macquarie
C-6 installed (Yamaha replaced)
Residence
AP-30 PLUS MIDI DIV II installed
Residence, Blackheath
Historique III installed
Residence, Katoomba
Historique installed
Residence, Parramatta
G-330 installed
Residence, St Ives
MDC-20 installed
QLD
Anglican, Cleveland
Repertoire IIa installed (Mansonic replaced)
Anglican Church, Zillmere
CF-3 installed (Conn replaced)
Anglican Church, Oxley
L-5 installed (Hammond replaced)
Anglican Church, Clayfield
L-9 PLUS VISTA installed (Old Allen replaced)
Anglican Church, Kenmore
L-9 installed (Old Allen replaced)
Anglican Church, Bridgeman Downs
202C installed
Anglican Church, Charters Towers
C-6 installed
Anglican Church, Chermside
Q-325B installed
Anglican Church, St Lucia
L-343DK French installed (Pipe replaced)
Anglican Church, Maleny
CF-2A installed (Viscount replaced)
Anglican Church, Montville
CF-2A installed (Viscount replaced)
Anglican Church, Morningside
CF-3 installed (Yamaha replaced)
Anglican Church, Scarborough
CF-4 installed (Yamaha replaced)
Anglican Church, Kangaroo Pt
Q-300 PLUS VISTA installed
Anglican School, Charters Towers
C-6 PLUS VISTA installed (Conn replaced)
Baptist Church, Cardwell
CF-2 installed (Kawai replaced)
Boys Grammar School, Brisbane
AP-15 installed (Conn replaced)
Catholic Cathedral, Townsville
Q-350 PLUS VISTA NAVIGATOR installed (Rodgers replaced)
Catholic Church, Stanthorpe
CF-8 installed (Ahlborn-Galanti replaced)
Catholic Church, Camp Hill
L-122 PLUS VISTA NAVIGATOR installed (Baldwin replaced)
Catholic Church, Grovely
L-11 installed (Baldwin replaced)
Catholic Church, Stafford
C-3 installed (Baldwin replaced)
Catholic Church, Booval
Repertoire II installed (Conn replaced)
Catholic Church, Corinda
C-6 PLUS MIDI DIV II installed (Conn replaced)
Catholic Church, Marsden
C-3A installed (Conn replaced)
Catholic Church, Nanango
C-3A installed (Conn replaced)
Catholic Church, New Farm
CF-9 installed (Conn replaced)
Catholic Church, Auchenflower
L-10 installed (Conn replaced)
Catholic Church, Banyo
C-3A PLUS MIDI ASSISTANT installed (Hammond replaced)
Catholic Church, Toowong
L-121 PLUS VISTA installed (Hammond PLUS Pipe organ replaced)
Catholic Church, Hendra
CF-17+GenSys Voices installed (Kawai replaced)
Catholic Church, South Brisbane
L-10 installed (Kawai replaced)
Catholic Church, St John's Wood
L-5 installed (Kawai replaced)
Catholic Church, Wilston
L-10 installed (Kawai replaced)
Catholic Church, Zillmere
Repertoire II installed (Lowrey replaced)
Catholic Church, Burleigh Heads
L-229e installed (n/a replaced)
Catholic Church, Oxley
C-2 installed (National replaced)
Catholic Church, Pottsville
L-5 installed (Orla replaced)
Catholic Church, Broadbeach
L-10 installed (Orla replaced)
Catholic Church, West Mackay
CF-9 installed (Orla replaced)
Catholic Church, Surfers Paradise
L-10 installed (Orla replaced)
Catholic Church, Brisbane Sesquicentenary
L-121 installed
Catholic Church, Fortitude Valley
603 installed
Catholic Church, Maleny
CF-2 installed
Catholic Church, Wavell Hts
202 installed
Catholic Church, Indooroopilly
L-227 installed (Pipe organ replaced)
Catholic Church, Moorebank
Repertoire II installed (Technics replaced)
Catholic Church, Clear Island Waters
L-10 installed (Technics replaced)
Catholic Church, Upper Mt Gravatt
C-6 PLUS VISTA installed (Technics replaced)
Catholic Church, Cannon Hill
301 installed (Wurlitzer replaced)
Catholic Church, Graceville
AP-4 PLUS MIDI EXP installed (Yamaha replaced)
Catholic Church, Tugun
L-9 installed (Yamaha replaced)
Catholic Church, Coolangatta
QL-120 PLUS VISTA installed (Yamaha EL-60 replaced)
Catholic Church, St Lucia
C-14C PLUS VISTA installed (Yamaha EL-90 replaced)
Catholic Church, Woolloongabba
Repertoire II installed
Catholic church, Inala
Historique IIG with GeniSys Voices installed (Conn replaced)
Catholic Church, Annerley
Allen G-210 + GeniSys Voices installed (Virtual replaced)
Catholic Church, Ashmore
G-220 installed (Hammond A-405 replaced)
Catholic Church, Bundaberg
Content Clavis 224 installed (Yamaha EL replaced)
Catholic Church, Riverview
Content Clavis 224 installed (Eminent replaced)
Catholic Church ( St James), Coorparoo
CF-17 installed (Conn Hammond replaced)
Catholic College (St Laurence's), South Brisbane
L-11+Vista Navigator installed
Catholic Retirement Village, Carseldine
CF-3 installed (Conn replaced)
Catholic University, Banyo
Q-260 PLUS VISTA installed
Christadelphian Church, Lutwyche
C-14C PLUS VISTA installed (Viscount replaced)
Christian Science, Maroochydore
MDS-6 installed (Conn replaced)
Iglesia Ni Cristo, Coopers Plains
C-6 installed (Yamaha replaced)
Latter Day Saints, Brassall
ADC-3100 installed
Latter Day Saints, Burpengary
ADC-430 installed
Latter Day Saints, Karawatha
AP-16LDS installed
Latter Day Saints, Nerang
MDS-30LDS installed
Latter Day Saints, Raceview
AP-15 installed
Latter Day Saints, Redcliffe
MDS-6 installed
Lutheran Aged Care, Trinder Park
Repertoire II installed (Eminient replaced)
Lutheran Church, Corinda
C-6 installed (Conn replaced)
Lutheran Church, Nundah
Repertoire II installed (Conn replaced)
Lutheran Church, Toowoomba
C-3 installed (Conn replaced)
Lutheran Church, Toowoomba
CF-2 PLUS ENSEMBLE installed (Conn replaced)
Lutheran Church, Hervey Bay
C-6 installed (Kawai replaced)
Lutheran Church, National Synod
Q-260 PLUS VISTA installed
Lutheran Church, Rochedale
C-6 installed
Lutheran Church, Toowoomba
L-226 installed (Pipe Organ replaced)
Masonic Lodge, Mt Tamborine
MDC-30 installed
Presbyterian Church, Townsville
C-6 PLUS MIDI DIV II installed (Conn replaced)
Presbyterian Church, Arundel
MDC-20 installed (Kawai replaced)
Presbyterian Church, Alexandra Headland
C-6 PLUS ENSEMBLE installed (Orla replaced)
Presbyterian Church, Browns Plains
Ringway A-2000 installed (Technics replaced)
Residence, River Heads
Content Clavis 224 installed
Retirement Village, Robina
Historique installed (Gulbransen replaced)
Seventh Day Adventist Church, Mackay
MDS-5 installed
Seventh Day Adventist Church, Mansfield
L-121 installed
Seventh Day Adventist Church, Victoria Point
L-6 installed (Wurlitzer replaced)
Seventh Day Adventist Church, Woolloongabba
CF-8 installed (Conn replaced)
Sisters of Mercy Chapel, Fortitude Valley
L-229e installed (Conn replaced)
St Joseph's Catholic Church, Kangaroo Point
Content Clavis 224R installed
St Matthew's Anglican Church, Holland Park West
Content Chapel 236 installed (Johannus replaced)
Uniting Church, Nambour
C-14C installed (Ahlborn-Galanti replaced)
Uniting Church, Beachmere
CF-2A installed (Baldwin Cinema replaced)
Uniting Church, Aspley
C-6 installed (Conn replaced)
Uniting Church, Caloundra
AP-3 installed (Conn replaced)
Uniting Church, Maleny
L-5 installed (Conn replaced)
Uniting Church, Victoria Point
L-4 installed (Elka replaced)
Uniting Church, Beenleigh
C-3 installed (Kawai replaced)
Uniting Church, Noosa
AP-4 PLUS MIDI DIV II installed (Kimball replaced)
Uniting Church, Elanora
AP-4 PLUS MIDI DIV II installed (Lowrey replaced)
Uniting Church, Thorneside
120-C installed
Uniting Church, Indooroopilly
L-9 installed (Pipe Organ replaced)
Uniting Church, Buderim
C-6 installed (Wurlitzer replaced)
Uniting Church, Fernvale
L-5 installed (Yamaha replaced)
Uniting Church, North Mackay
C-6 PLUS MIDI DIV II installed (Yamaha replaced)
Residence, Toowoomba
L-321 installed (Ahlborn-Galanti replaced)
Residence, Hervey Bay
C-3A installed (Allen replaced)
Residence, Daisy Hill
CF-17a installed (Allen theatre replaced)
Residence, Broadbeach Waters
R-311 installed (Conn replaced)
Residence, Edens Landing
T-321-Q PLUS VISTA installed (Conn replaced)
Residence, Tanah Merah
R-311 installed (Baldwin replaced)
Residence, Warner
QL-120 (ENG) PLUS VISTA installed (Hammond replaced)
Residence, Caloundra
L-4AUS installed (Johannus replaced)
Residence, Holland Park
QLF-315 PLUS VISTA installed (Johannus replaced)
Residence, Birkdale
C-6 installed (Kawai replaced)
Residence, Bli Bli
Repertoire installed (Kawai replaced)
Residence, Sunnybank
R-311 PLUS VISTA installed (Kawai replaced)
Residence, Brassal
CF-2A installed (Lowrey replaced)
Residence, Belmont
Q-211 AUS installed (Lowrey - Hammond replaced)
Residence, Stanthorpe
L-4 installed (N/A replaced)
Residence, Tully
L-10 installed (N/A replaced)
Residence, Aspley
C-3A installed
Residence, Beenleigh
L-5 installed
Residence, Brighton
CF-8 installed
Residence, Carseldine
C-6 installed
Residence, Coopers Plains
AP-4 installed
Residence, Ekibin
G-330DK installed (Allen Cf-8 replaced)
Residence, Kingaroy
423C installed
Residence, Maleny
CF-9 installed
Residence, Middle Park
MDC-30 installed
Residence, Mudgeeraba
L-4AUS installed
Residence, Noosa
AP-30 PLUS ENSEMBLE installed
Residence, Oxley
CF-8 installed
Residence, Rochedale
CF-8 installed
Residence, Tanah Merah
R-350 PLUS MIDI DIV II installed
Residence, Toowoomba
CF-8 installed
Residence, Warwick
ADC-420C installed
Residence, Warwick
Content Celeste 340R installed (Allen MDS-11 replaced)
Residence, Zillmere
C-6 installed
Residence, Carrara
MDS- TH CUSTOM installed (Smaller Allen replaced)
Residence, Ipswich
L-321T PLUS VISTA NAVIGATOR installed (Smaller Allen replaced)
Residence, Palmwoods
L-5 installed (Technics replaced)
Residence, Caboolture
435 installed (Thomas replaced)
Residence, Red Hill
Historique installed (Thomas replaced)
Residence, Bridgeman Downs
C-3A installed (Yamaha replaced)
Residence, Cairns
Q-385 installed (Yamaha replaced)
Residence, Toowoomba
L-5 installed (Yamaha replaced)
Residence, Kuraby
Historique III installed